Midwest Specialty Products is a family-owned business that specializes in the production of disposable napkins, towels, wipers, continuous roll towels, and products. Based in Winneconne, Wisconsin, we strive to be highly responsive to our customers' needs. It all begins as we simply and ardently do what we promise.
Our Vision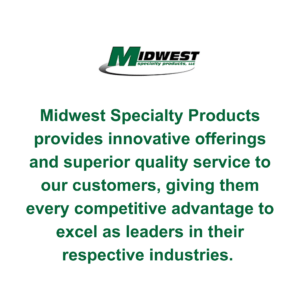 Our Values
As a socially responsible company, we are committed to making the world a better place for our employees, clients, and the communities we work in. Explore the values that guide our decisions and shape the way we do business below.
Treat People Caringly
People are what matter most. That's why we strive for honesty, integrity, and respect for others in all interactions.
Act With Urgency
We develop solutions to problems with deliberate speed.
Be Leaders in All We Do
We influence and develop people, at all levels, who will then develop the business, at all levels.
Drive Continuous Improvement and Innovation
We embrace improvement and innovation by continually improving our people, products, services, and systems so that energy is created.
We Deliver on Customer Needs
We're committed to providing our customers with the ultimate clean experience. We deliver what our customers need and go above and beyond to present high-quality products that meet their specifications in a timely manner.
We Are Authentic
We build strong relationships and partnerships with our customers. Our team is highly responsive and nimble, and we always do what we promise to deliver the best results.
Meet Our Executive Team
We're entrepreneurs doing business with entrepreneurs, and we pride ourselves on building strong relationships with each of our customers to better serve their unique needs.
Let's Work Together
Find out what it's like to have a partner dedicated to working for you and serving your unique needs.