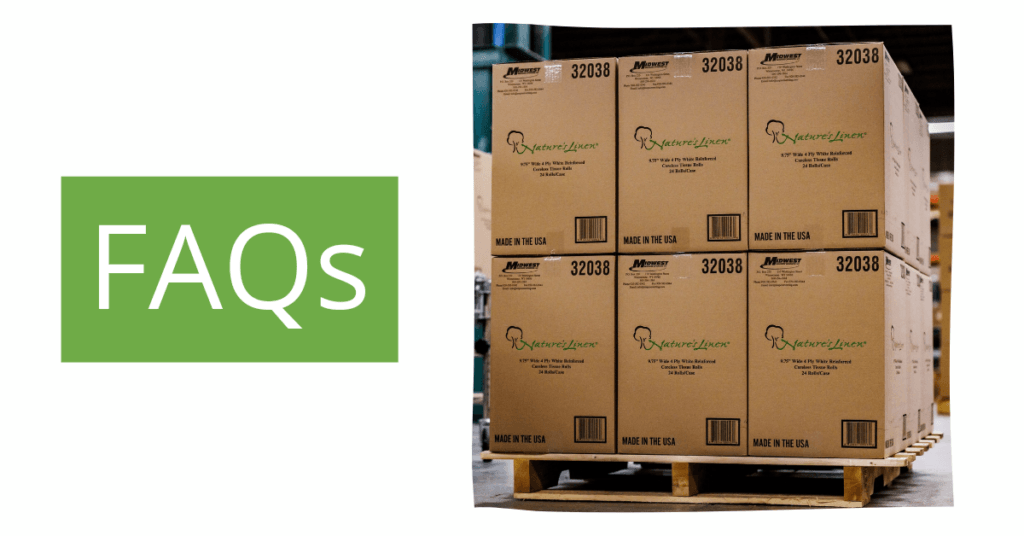 Do you have questions about our products, services, or capabilities? We have answers! Below you'll find information about the most common questions we receive. If you have a question that is not on this list, please don't hesitate to contact us. Our team is always here to help.
What materials do you use to create Nature's Linen products?
Our Nature's Linen products come in a wide range of materials to meet our customers' unique needs. The primary materials we use include:
Scrim: If you're looking for an option that's strong, durable, and lint-free, scrim is an excellent choice. Made with reinforced tissue, this material is a great economic wiping tool with extra scrub strength and superior wipe-dry properties. Perfect for use as a general wiper and ideal for glass and smooth surfaces.
Spunlace: For a biodegradable option that's lint-free and super absorbent, choose spunlace. The cloth-like feel and strength make this an excellent alternative to traditional rags. Clean even the toughest messes and chemical spills thanks to the solvent resistance of our spunlace material.
Airlaid: Made with natural fiber, this soft, non-woven material yields high absorbency with low lint. A fantastic alternative to cloth, our Airlaid products are ideal for cleaning and wiping up spills.
Double Re-Creped Cellulose (DRC): This non-woven wiper is made of wood pulp and binders for extra durability, strength, softness, and superior wipe-dry properties, with medium lint. If you work with grease and oil, you'll find this is the perfect solution thanks to its high absorbency. Our DRC wipers are perfect for automotive and janitorial applications.
Do you have an order minimum?
Order minimums apply to bath towels and food service products eligible for pre-paid freight. For these orders, we require a minimum of two pallets. This does not apply to our Nature's Linen line of continuous roll towels (CRTs).
How much do your Nature's Linen products cost?
We offer competitive pricing and guaranteed sales on all of our products. Please contact us for a custom quote.
Do you charge setup fees for custom-printed products?
We use digital images to create our custom-printed products, so you never have to worry about additional plate charges or setup fees.
How much can I expect to save by switching to Nature's Linen disposable products?
Customers who switch to our disposable industrial wipers save up to 50% compared to their current cloth rag cleaning programs. Our scrim-reinforced wipers are stronger and perform better than plain paper towels, requiring fewer sheets to get the same job done. The super-absorbent design also picks up spills better than cloth rags and creates less waste because our Nature's Linen wipers don't fall apart like traditional paper towels.
When is my order payment due?
Total payment is due within 30 days of your invoice. We also offer an easy-to-use one-page credit application process.
Can I order multiple custom-printed designs in the same case pack?
We allow customers to order multiple images in the same case pack when purchasing custom-printed napkins from Midwest Specialty Products. This makes it easy and affordable to create unique designs for your business.
Which Nature's Linen materials are the most sustainable options for my business?
Our Natural DRC products contain 40% post-consumer recycled fibers and an additional 10-15% recycled fibers, making them a sustainable option for businesses seeking a disposable alternative to cloth and linen products. They are also stronger, more durable, and more absorbent than other disposable napkins and products, which reduces costs.
If you're looking to replace traditional cloth rags with a biodegradable option, our spunlace products are also an excellent choice. This material is lint-free, super absorbent, and solvent resistant so you can clean even the toughest messes.
Can I request sample kits of your products?
We offer custom sample kits and marketing collateral available upon request. Please contact us to learn more and allow 2-3 weeks of lead time when placing your order.