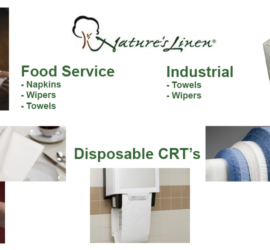 Products
Nature's Linen is Midwest Specialty Products brand of food service, continuous roll towel, and industrial products. Nature's Linen is the disposable alternative to cloth napkins, wipers, and towels. ...
Read more »
The Clean Experience
Download the Clean Experience Brochure First impressions are everything In a fast-paced world, people are expecting more — more food services, more self-serve options, and a cleaner experience. Keeping ...
Read more »
Contract Converting
At Midwest Specialty Products we take pride in providing the best solutions to our clients. We offer relationship-oriented service with our partner clients, delivering the products you need, when you ...
Read more »